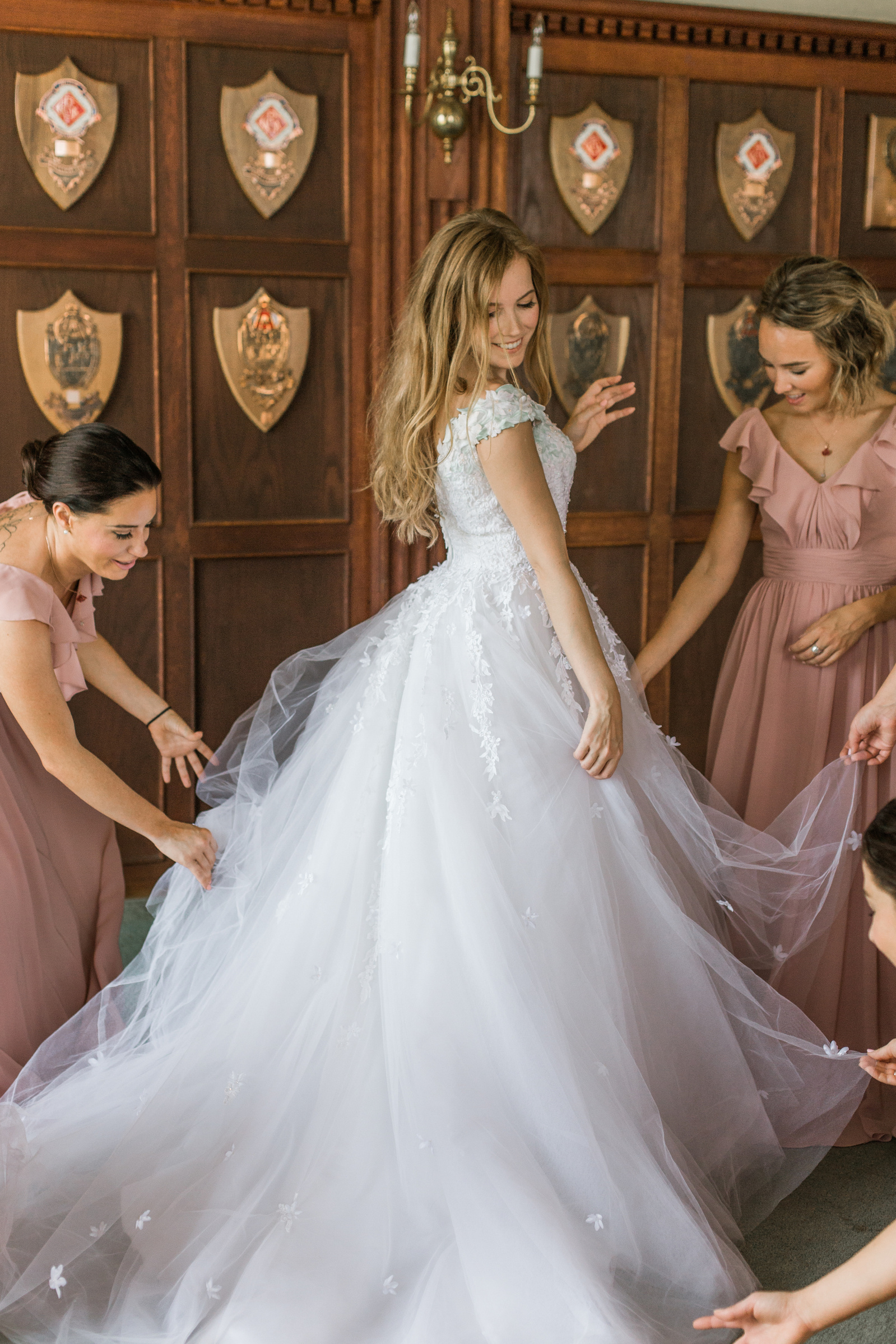 These are two the key moments I always visualized of my wedding day. The first moment was the walk down the aisle.
The details were always a bit blurry, but I would imagine the feelings of anticipation and an atmosphere of formality, with a whole lot of joy in the air. I imagined I would be both incredibly nervous and incredibly excited as I prepared to make my grand entrance.
This moment would call for a dress that was substantial and dramatic for my big entrance, but did not weigh me down or constrict my movements.
I wanted to take up space and have a long, sweeping train, but still wanted to be able to walk comfortably and twirl at every opportunity.
…there were many twirling opportunities!
I made my ceremony dress out of a fluffy white wedding dress that I picked up at one of my go-to thrift stores (Encore Upscale Resale) before I even got engaged.

It had a basque waist with pearl and crystal beads and the waist and neckline, and a full-length tuelle skirt…not exactly my bridal vision (see sketch) but it had potential. Re-tailoring involved removing all of the beads and cutting the dress completely in HALF, which was the most stressful moment of this whole process!
I straightened and raised the waistline for a more flattering fit, and adjusted the sleeves for an off-the-shoulder style. I also raised the front of the skirt so that my feet could peek out, eliminating trip hazards while keeping the dramatic train.
After sewing the two halves back together, I covered the bodice with lace and fabric flowers which transitioned into the skirt, and re-used the crystal beads for some "daytime sparkle." I added subtle colors by hand-painting the lace at the neckline.
Hours and hours were spent happily hand-sewing flowers.
I had to hurry and have the dress pack-able in May, when we moved into our new house. This was another stressful moment. Like those baking shows where you have to move the giant cake from one table to another without it collapsing, I had to get the dress off my mannequin in one piece and transport it to the new house, without Ted seeing it of course!
But we made it! This is the new hot pink studio.
After confirming the perfect fit…
and doing an accessory check…
I was ready to get married!
What's more romantic than flowers? Flowers were so important in our ceremony, from the bouquets, to the living potted plants that lined the aisles (and were later re-used as centerpieces for dinner, and now decorate our house), to the rose-covered trellace we were married under, to the "marriage plant" that we watered in lieu of a unity candle. We saw plants as symbol of growth, and the new life we were beginning together. We covered the venue with vivacious, flowers, so naturally, I had to cover myself in blooms too!
Standing, sitting, being spun around, my dress was up to any task! My feet on the other hand…not so much.

To be continued in part 3 with the second dress!
All wedding photos on this post by Kellie Robinson Photography
Location: Belle Isle Boat House
Event Coordinator: Ryan Abney
Florals: Scarlet Poppy
Veil: One Blushing Bride
Hair and Makeup: Black the Salon (Jordan Praski and Krystal Majeske)