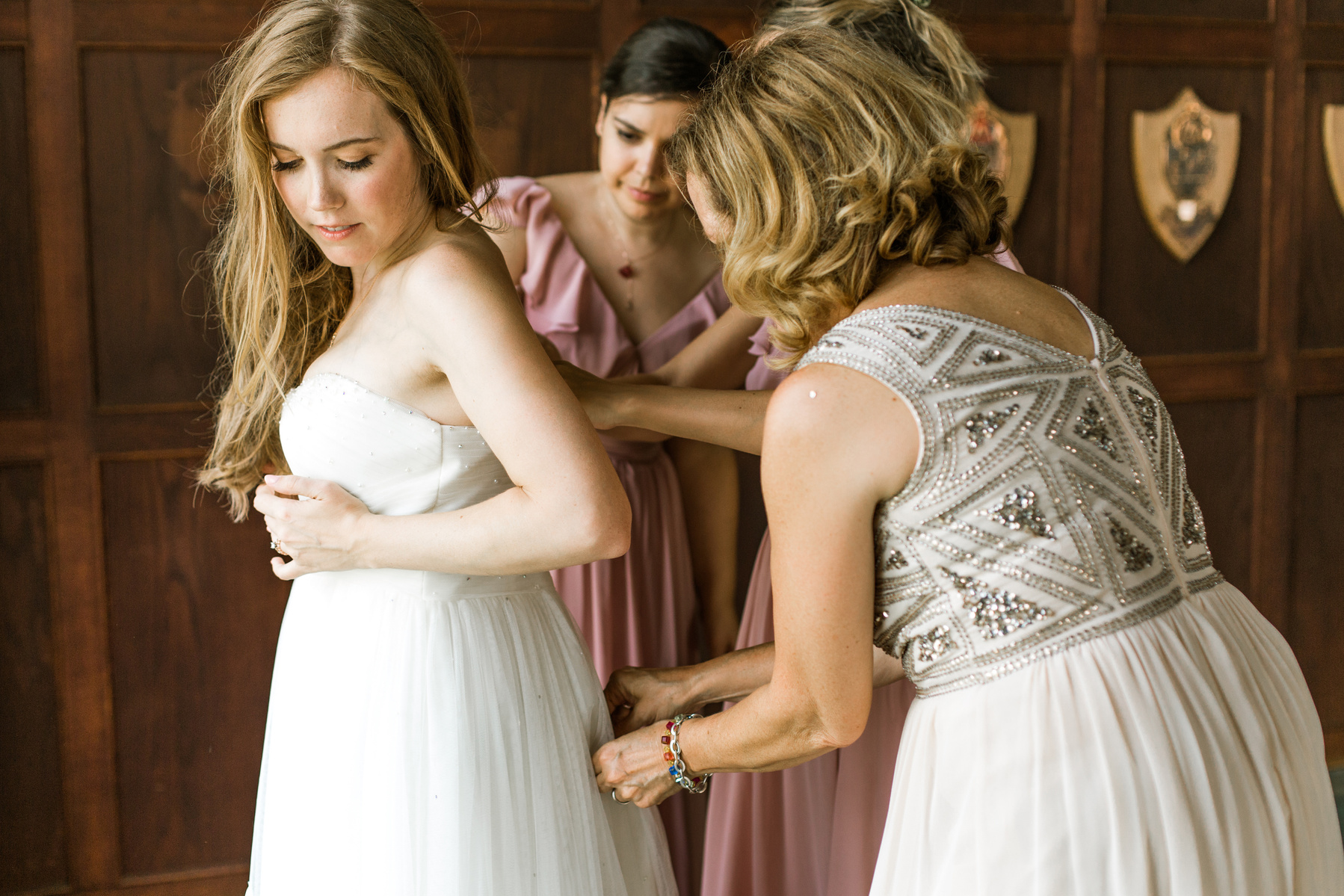 The second big wedding moment I had always visualized was the first dance…
followed by an evening of dancing with my new husband and all of our favorite people!

Unlike the monumental ceremony, this event required a dress that was fun, festive, and lightweight.
I envisioned soft layers, frothy textures, and lots of sparkles that would catch the light.
For the ceremony, I wanted to feel like an elegant princess. For the reception, I wanted to be a dancing queen!
I found the base for this dress at The Brides Project, a non-profit store run by volunteers in Ann Arbor, Michigan. It has an amazing selection of gowns, some "pre-loved" by brides who donated their dress after their wedding, and many unsold gowns donated directly from bridal salons. All profits from the sale of the gowns go directly to the Cancer Support Community, supporting programs and services for people touched by cancer.
This was the very first dress I tried on as an actively-shopping bride-to-be, and it was love at first sight! It already fit perfectly, and had the beginnings of swan princess style with feathery fabric embellishments on the skirt.
I removed the bottom layer of the dress to turn this into a high-low hemline. This reduced the weight of the skirt and allowed me to dance the night away without fear of tripping over excess fabric.
I was able to re-use the tuelle "feathers" from the discarded layer and add them to new hemline more fluffy texture.
I added real feathers, each attached with an iridescent sequin, pearl bead, or Swarovski crystal.
This was another time consuming labor of love.
The embellishments transitioned all the way up the bodice, so the dress glittered from top to bottom.
Dance practice in the new studio!
Swans were featured all over the wedding, from the invitations, to the escort cards, to the cake toppers. We were married at the Belle Isle Boathouse overlooking the Detroit river, and there was even a swan family on the water that day. Swans are beautiful, graceful, and they mate for life. What better wedding mascot?
It was only fitting that I transformed into a Swan Princess for the reception!
You may be wondering, did this dress pass the dance test?
Absolutely!
100%, yes
Here's the thing…I LOVE dancing. Dancing at my wedding was everything I dreamed of and more!
I loved dancing with Ted…
and dancing with my dad…
and dancing with our guests all night long!
Making my own wedding dresses was one of the most rewarding projects I've ever done. Painting lace and sewing beads for hours on end was tedious work, but it gave me quiet moments to myself to reflect on the whole wedding process and daydream about the adventures ahead.
Life is short, why not wear a beautiful dress? Better yet, wear two! (or, insert your own happiness equivalent to "wear a beautiful dress") Live your life with unabashed exuberance and surround yourself with your favorite people and things.

Any future brides reading this, I'm hoping this inspires you to find all of the joy in your wedding planning process and big day. And, if you need a one-of-a-kind dress for that special event in your life, you know who to call (wink wink).
xx Bridget
All wedding photos on this post by Kellie Robinson Photography
Location: Belle Isle Boat House
Event Coordinator: Ryan Abney
Florals: Scarlet Poppy
Tiara: Anna Marguerite
Cake and Macarons: Cannelle Patisserie
Hair and Makeup: Black the Salon (Jordan Praski and Krystal Majeske)